Speaker Series
Event Details
21st Century Safety: Balancing Security with Civil Rights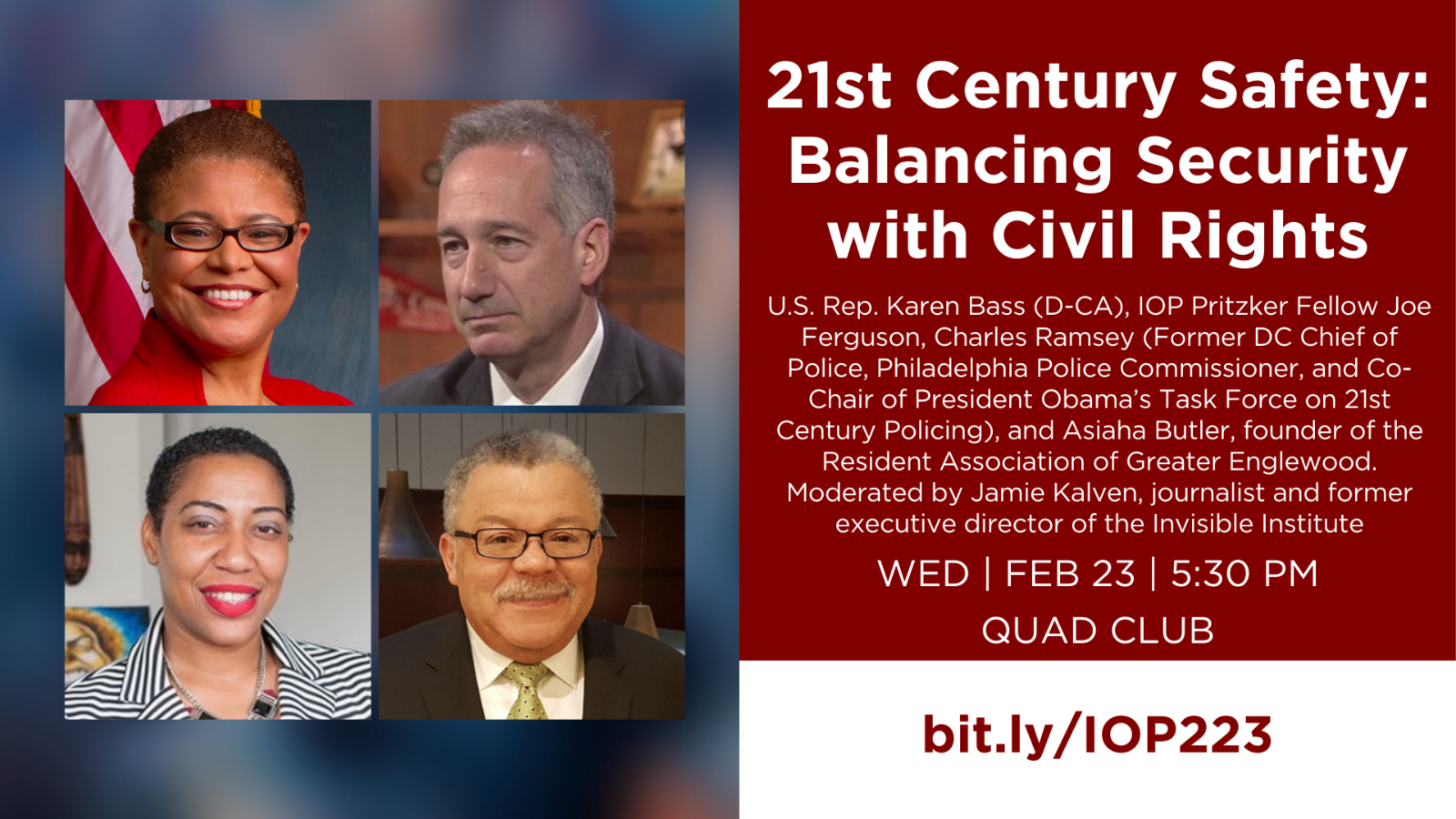 21st Century Safety: Balancing Security with Civil Rights
Quadrangle Club
Wednesday, February 23
5:30PM-6:45PM
The May 2020 killing of George Floyd in Minneapolis sparked national outrage while giving a renewed sense of urgency for police reform in the United States.
Floyd's death fueled a conversation that gained momentum after the 2014 killings of Eric Garner, Michael Brown, Laquan McDonald and Tamir Rice. In the years since, the chorus of calls for police reform continued after the deaths of Philando Castile and more recently Breonna Taylor. But in many ways, Floyd's death was a watershed moment. Cities throughout the country saw thousands of everyday Americans clash with police officers while major corporations issued statements affirming their support for racial equality. More than 160 public symbols of the Confederacy were removed or renamed, according to the Southern Poverty Law Center. Professional athletes kneeled during the National Anthem in protest, with some teams even refusing to play after the shooting of Jacob Blake in August 2020. Lawmakers across the country introduced legislation to reform the practices of law enforcement agencies. Floyd's death also resulted in a marked shift in Americans' views on policing and race. A June 2020 survey by the Associated Press-NORC Center for Public Affairs Research found about half of American adults said police violence against the public was a "very" or "extremely" serious problem -- a significant increase from 2015. Floyd's death also rejuvenated calls to defund police departments. The burgeoning movement called for a system that takes certain responsibilities away from law enforcement in favor of community-based services while emphasizing restorative justice.
As the discussion on police reform has gained momentum, the United States has also seen an increase in murders and other violent crime. Between 2019 and 2020, the country's murder rate had the largest single-year increase in more than a century, according to the Centers for Disease Control and Prevention. Cities across the country, including Philadelphia, Indianapolis, Louisville, Columbus, Tucson and Portland have seen record homicides in 2021, with significant increases reported in Los Angeles, Chicago and Houston as well. In Chicago, expressway shootings and carjackings are at record levels this year. Complicating matters further, police departments throughout the country have reported notable increases in the number of officers retiring or resigning since early 2020.
The current conversation around policing has produced a myriad of questions about the future of public safety in America. How can cities balance public safety while addressing long standing issues of racism in policing? Can communities transition away from over reliance on law enforcement without compromising safety? How can law enforcement agencies build trust within communities that have been overpoliced? What reform-oriented solutions have worked in other cities that communities should consider?
 Joining us for this conversation on balancing civil rights and public safety will be:
U.S. Rep. Karen Bass, D-CA Joe Ferguson, former Inspector General of Chicago, former assistant US attorney Charles Ramsey, former DC Chief of Police, former Philadelphia Police Commissioner, and Co-Chair of President Obama's Task Force on 21st Century Policing Asiaha Butler, founder of the Resident Association of Greater Englewood
The conversation will be moderated by Jamie Kalven, journalist and former executive director of the Invisible Institute.
This convening is open to all invitees who are compliant with UChicago vaccination requirements and, because of ongoing health risks, particularly to the unvaccinated, participants are expected to adopt the risk mitigation measures (masking and social distancing, etc.) appropriate to their vaccination status as advised by public health officials or to their individual vulnerabilities as advised by a medical professional. Public convening may not be safe for all and carries a risk for contracting COVID-19, particularly for those unvaccinated. Participants will not know the vaccination status of others and should follow appropriate risk mitigation measures.
If you are not currently affiliated with the University (enrolled student, faculty, or staff) it is expected that you review the University's COVID mitigation efforts. The University expects every person who comes to a University facility, whether as an academic appointee, postdoctoral researcher, staff member, student, volunteer, contractor, or visitor, to adopt precautions designed to mitigate the risk of viral transmission.
To request an accommodation or for inquiries about accessibility, please contact Christine Hurley, Director of Production & Special Events at cehurley@uchicago.edu or (773) 834-3481.