Speaker Series
Event Details
Resilience and Redemption: Growing up on Chicago's South Side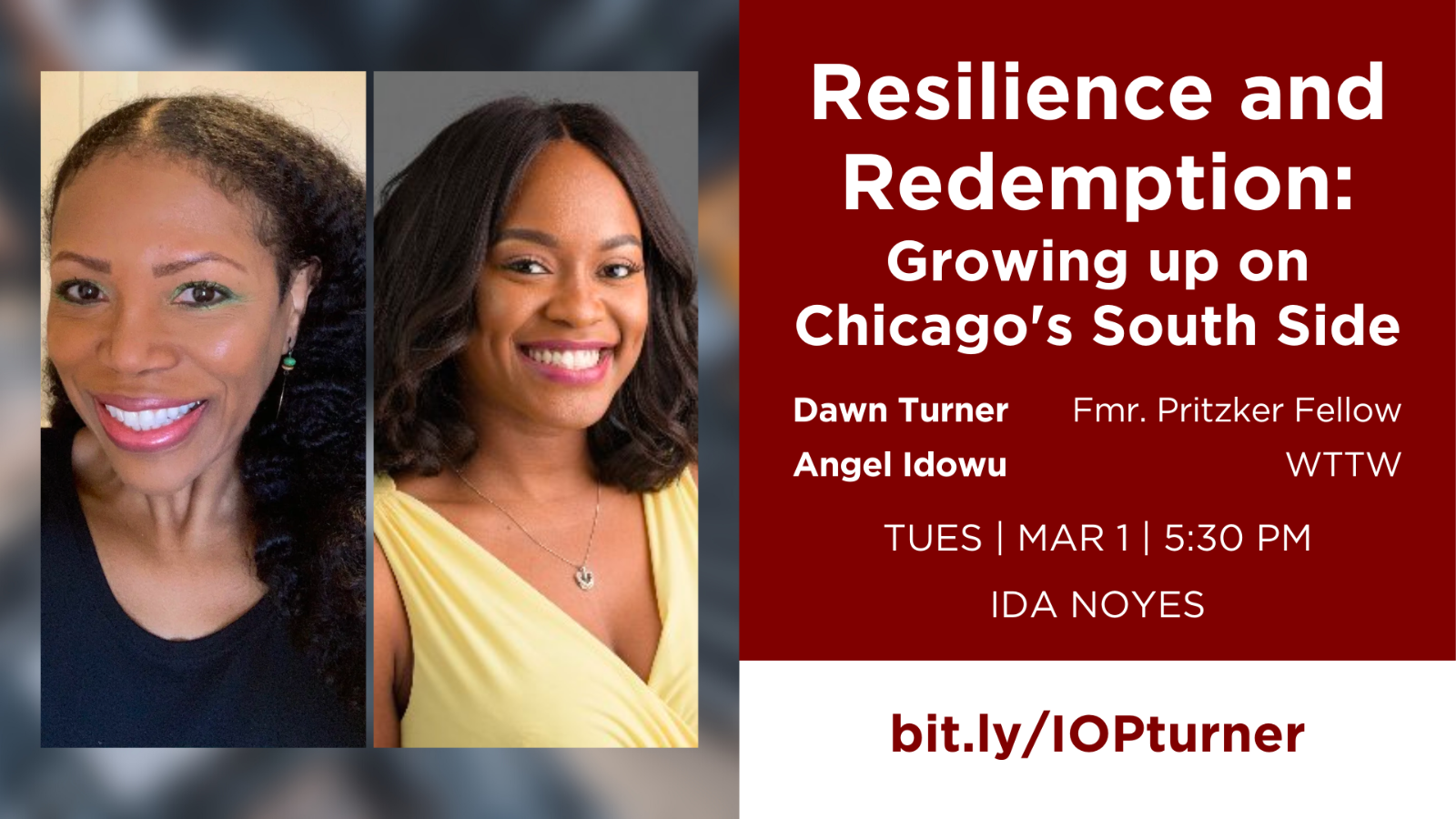 Location

Ida Noyes Hall Library

—

1212 E 59th St Chicago, IL
A former columnist and reporter at The Chicago Tribune, Dawn Turner grew up in the 1970s on the South Side of Chicago, in the historic Bronzeville neighborhood. Known as the city's Black Metropolis, the neighborhood is famous for being a cultural hub, with Pulitzer Prize-winning poet Gwendolyn Brooks once calling it her home.
In her book, Three Girls from Bronzeville: A Uniquely American Memoir of Race, Fate and Sisterhood, Turner recounts her childhood as she, her sister and her best friend explored their neighborhood and came of age as the third-generation daughters of the Great Migration, when thousands of Black families fled the Jim Crow South. Turner, who is a former Pritzker Fellow, explores the upbringing of the three young girls and the divergent paths they ended up taking.
Join us for a discussion with Turner, whose book is a reflection on the struggles of Black women while exploring issues of race, class and opportunity.
This conversation will be moderated by Angel Idowu, a Hyde Park and Bronzeville native who hosts Chicago Tonight's Black Voices, an ongoing WTTW segment with in-depth conversations on issues that matter to Chicago's Black community.
This convening is open to all invitees who are compliant with UChicago vaccination requirements and, because of ongoing health risks, particularly to the unvaccinated, participants are expected to adopt the risk mitigation measures (masking and social distancing, etc.) appropriate to their vaccination status as advised by public health officials or to their individual vulnerabilities as advised by a medical professional. Public convening may not be safe for all and carries a risk for contracting COVID-19, particularly for those unvaccinated. Participants will not know the vaccination status of others and should follow appropriate risk mitigation measures.
If you are not currently affiliated with the University (enrolled student, faculty, or staff) it is expected that you review the University's COVID mitigation efforts. The University expects every person who comes to a University facility, whether as an academic appointee, postdoctoral researcher, staff member, student, volunteer, contractor, or visitor, to adopt precautions designed to mitigate the risk of viral transmission.
To request an accommodation or for inquiries about accessibility, please contact Christine Hurley, Director of Production & Special Events at cehurley@uchicago.edu or (773) 834-3481.