Speaker Series
Event Details
General Stanley McChrystal on Risk and Challenges of Leadership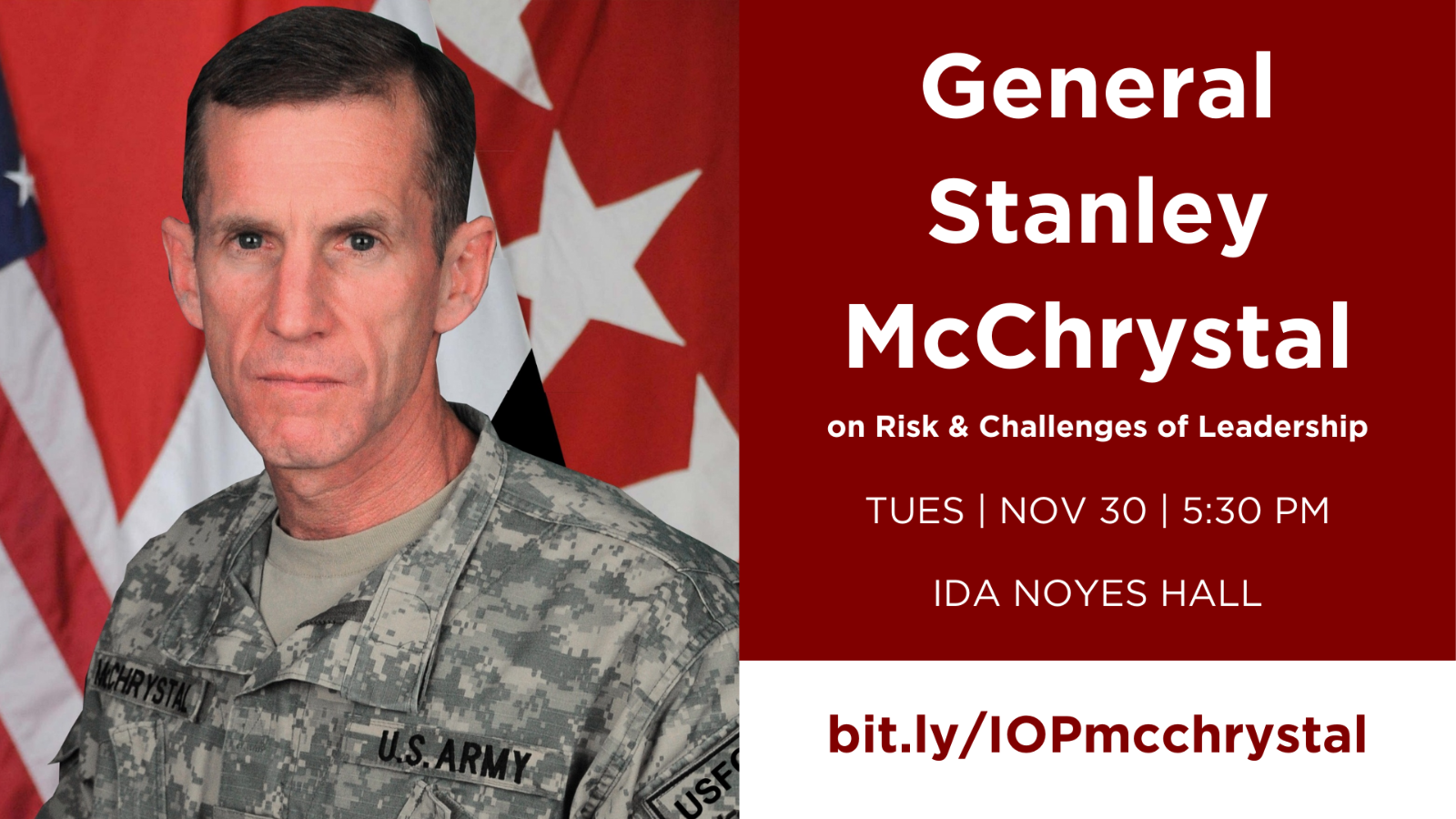 Location

Ida Noyes Hall

Cloister Club

—

1212 E 59th St Chicago, IL
Please join the Institute of Politics in person as we welcome General Stanley McChrystal for a live taping of "The Axe Files" podcast with IOP Founding Director David Axelrod.
McChrystal is a retired four-star general and is the former commander of US and International Security Assistance Forces (ISAF) Afghanistan and the former commander of the nation's premier military counter-terrorism force, Joint Special Operations Command (JSOC). Gen. McChrystal founded McChrystal Group in January 2011 where he advises senior executives at multinational corporations on navigating complex change and building stronger teams. During his military career, Gen. McChrystal was well known for developing and implementing a comprehensive counterinsurgency strategy in Afghanistan, and for creating a cohesive counter-terrorism organization that revolutionized the interagency operating culture.
Gen. McChrystal is the author of a new book, Risk: A User's Guide, where he details his experiences and career of a life associated with the deadly risks of combat. From his first day at West Point, to his years in Afghanistan, to his efforts helping business leaders navigate a global pandemic, McChrystal has seen how individuals and organizations fail to mitigate risk. Why? Because they focus on the probability of something happening instead of the interface by which it can be managed.
Copies of Risk: A User's Guide will be for sale.
This convening is open to all invitees who are compliant with UChicago vaccination requirements and, because of ongoing health risks, particularly to the unvaccinated, participants are expected to adopt the risk mitigation measures (masking and social distancing, etc.) appropriate to their vaccination status as advised by public health officials or to their individual vulnerabilities as advised by a medical professional. Public convening may not be safe for all and carries a risk for contracting COVID-19, particularly for those unvaccinated. Participants will not know the vaccination status of others and should follow appropriate risk mitigation measures.
If you are not currently affiliated with the University (enrolled student, faculty, or staff) it is expected that you review the University's COVID mitigation efforts. The University expects every person who comes to a University facility, whether as an academic appointee, postdoctoral researcher, staff member, student, volunteer, contractor, or visitor, to adopt precautions designed to mitigate the risk of viral transmission.
To request an accommodation or for inquiries about accessibility, please contact Christine Hurley, Director of Production & Special Events at cehurley@uchicago.edu or (773) 834-3481.