Pritzker Fellows
Steve Sisolak
Steve Sisolak
Former Democratic Governor of Nevada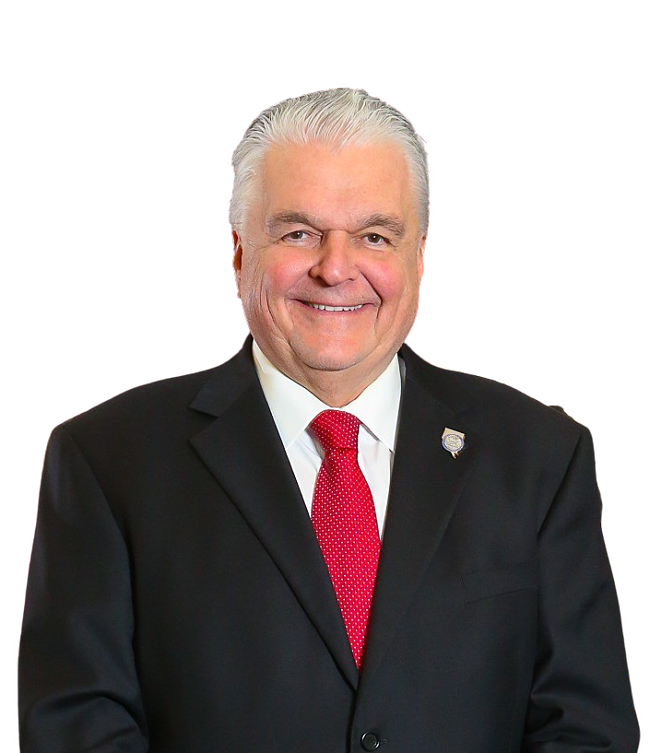 Steve Sisolak was born into a working-class family in Milwaukee, Wisconsin where his parents, Ed and Mary worked hard to provide for their three children. Steve inherited their blue-collar ethic, working full-time to put himself through college at the University of Wisconsin-Milwaukee. Steve then enrolled in UNLV's Graduate Studies Program, where he received a master's degree in 1978.

Steve put down roots in Las Vegas, built his own communications business, all while raising his two daughters on his own as a single father. Both his daughters attended Nevada's public high schools and UNLV, where Ashley earned her law degree and Carley earned her master's degree.

Motivated by his passion for education, Steve decided to give back to the community that supported him by serving on the Nevada Board of Regents for 10 years. As a champion for parents and students, Steve stood up for Nevadans wrongfully charged out-of-state tuition and fought for increased state funding. Education remains a top priority for Steve as governor.
In 2008, after 10 years as a University Regent, Steve was elected to the Clark County Commission, where he served as chairman until being sworn in as governor of Nevada. On the commission, Steve was known as a coalition builder and problem solver. Steve successfully managed the state's largest county budget and led the county through the Great Recession. As governor, Steve is working to strengthen Nevada's statewide economy by diversifying our industries and working to attract new fields and recruit job-creating companies to the Silver State.
As the first Democratic governor in the Silver State in over twenty years, Steve delivered historic investments to every corner of the state and every generation of Nevadans, all while weathering unprecedented challenges. Because of Steve's leadership, Nevada is moving towards an economy that works for every Nevadan, schools that support every student, and a commitment to deliver a brighter future for generations. 
Steve's commitment to preparing Nevada for a changing climate and mitigating the damage of climate change on future generations led to the rapid expansion of the state's clean energy sector. As of 2022, Nevada was on track to reach 50 percent of electricity generated by renewable energy sources by 2030, a standard set in 2019. And because of Steve's leadership, Nevada is now the Western hub for renewable energy, with the number one solar economy and the highest number of solar panels per capita in the nation. 
As governor, Steve also brought the tourism sector Nevada is well-known for into a new age. Playing a pivotal role in bringing the Golden Knights, Las Vegas Aces, the Raiders, and Formula 1 racing to Las Vegas, he understands the value professional sports franchises bring to a community and how to facilitate the recruitment of a team, construction of a stadium, and securing community buy-in. 

Steve stepped up at a pivotal point in the future of health care in Nevada and across the country. When opponents were attacking the Affordable Care Act, he made protections for preexisting conditions permanent, ended surprise billing, and joined the Northwest Prescription Drug Consortium to negotiate lower drug prices. Nevada became only the second state in the nation to pass a public health insurance option that will lower premiums and provide better access to care.
When Nevada became the hardest-hit state due to COVID-19, Steve rolled up his sleeves and got to work for families, small businesses, workers, and students. Steve prioritized lives and livelihoods at every step. He secured more than $100 million in grants that helped nearly 10,000 small businesses, brought nearly 100 new businesses offering high-paying jobs to the state, and signed legislation protecting hospitality workers' jobs. He worked with CEOs of the casino properties to ensure that they had buy-in at every step of the process and helped balance progressive policies with keeping a business environment that allowed the gaming industry to continue to prosper in Nevada. Additionally, helping facilitate and promote large conventions and events, like the Consumer Electronics Show  and the 2021 NFL Draft, helping to ensure that the fiscal quarters after re-opening the strip post-COVID were some of the most profitable quarters in recent years for the NV gaming industry. 
Seminars
"Battleground Nevada: A View from the Governor's Office"
Nevada has been one of the fastest-growing states in the United States for decades, and is perhaps the most purple of the purple battleground states. Demographic changes, economic and labor issues, the impact of climate change and drought, impact of the COVID-19 crisis, among other issues, make Nevada one of the most interesting and challenging states to govern. In these seminars we'll explore the issues I dealt with in my many years in public service, particularly in my 4 years as Governor.
In this seminar we'll discuss why (and how) I entered politics after a successful career in business, and my-20 year journey to the Governor's mansion. After an unsuccessful bid for Senate in 1996, I was elected to the Nevada State Board of Regents in 1998, the governing body for higher education in the State, from there I went to the Clark County Commission, home county of Las Vegas - charged with managing the most populous and diverse country in the state. I was well prepared to take the reins when elected the first Democratic Governor in 20 years in 2018 with a set of priorities that quickly shifted as the COVID pandemic came and I governed through crisis.

The Board of Regents, which was my first job in public service, governs the state higher education system, comprised of 8 institutions. This involves setting policy priorities and budgets for the entire system. How does state higher education function? What measures can be put in place to ensure access to and quality of education? How does a state think about educating students for in-state job opportunities? We'll look at these questions and others in a discussion of the challenges in public higher education. We'll also dive into primary education and some of the investments we made in the system during my time as Governor.

The Clark County Commission is considered by many to be the most powerful governmental body in Nevada. How is the commission structured, and what are its primary responsibilities? In this seminar, we'll discuss the broad purview of the commission and how we tackled some of the most important issues facing the American West: land use, water, the population explosion and demographic changes. How did serving as County Commissioner prepare me for the Governor's mansion?

We'll look at the effect of marijuana legalization in Nevada - the upsides and the downsides.

We'll discuss the importance of Nevada in national politics. As a true purple state whose demographics have become more representative of broader U.S. demographics, Nevada has become more crucial on the primary calendar for Democrats and Republicans. We'll explore Harry Reid's legacy for Democrats in the state, the role of unions in state Democratic policies, and whether or not Nevada is a bellwether for broader political trends in the country.

Nevada has a history of gold and silver mining, but more recently gypsum and lithium mines have been developed - we'll explore mining in the 21st century and the land management issues that arise, as well as the energy industry in Nevada.

Interested in public office but don't know how to get started? We'll talk about what goes into launching a race at a local level and working your way up the ladder.

Nevada's economy is dependent on gaming and professional sports and the tourism they attract. We'll explore gaming licenses, the casino industry, and the work I did to bring major professional sports teams to Las Vegas and how they were a boon to the local and state economy.