Pritzker Fellows
Sarah Longwell
Sarah Longwell
Republican Strategist & Publisher of The Bulwark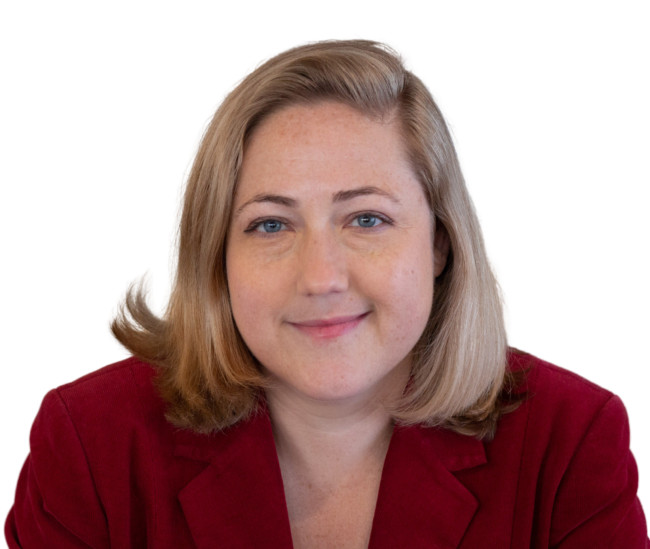 Sarah co-founded Defending Democracy Together, an advocacy organization made up of Republicans, former Republicans, and lifelong conservatives dedicated to defending America's democratic norms, values, and institutions. DDT's most notable projects are the Republican Accountability Project, Republican Voters Against Trump, and Republicans for the Rule of Law.
The Republican Accountability Project, established in the immediate aftermath of the January 6 attack on the Capitol, prioritizes defending Republican elected officials who stand for America's democratic values while holding accountable those who align themselves with former president Trump and far-right politicians.
Republican Voters Against Trump (RVAT), drew its strength from reaching real people with testimonials collected from others just like them. RVAT's unique, persuasive outreach strategy made a critical difference in key swing states in the 2020 election - states that handed Joe Biden the presidency.
Sarah also serves as founder and publisher of The Bulwark. Founded in late 2018, The Bulwark has grown from a content aggregator to a full publication and media company that has become exceedingly rare in today's polarized political climate: a moderate, broadly center-right perspective that invites disagreement and debate.
Longwell is the President and CEO of Longwell Partners, a full-service communications firm in Washington, D.C., which focuses on solving some of the country's most intractable problems through cross-partisan coalitions.
Prior to founding Longwell Partners, Sarah was Senior Vice President and Partner at Berman and Company, a right-leaning public affairs firm. Sarah graduated from Keyon College in 2002 with a BS in Political Science. She lives in Washington, D.C. with her family and is a native of Perry County, Pennsylvania.
Seminars
"The Art of Persuasion: Strategies to Restore Democracy"
In this seminar, I'll focus on how and why the GOP was captured by Trump, the political communications and persuasion work I led to defeat him in 2020, and the work we are doing today to better understand the dynamics of the American electorate. I'll trace my journey from Republican political and policy operative to my role in building a number of conservative organizations and institutions designed to resist the Trumpification of the GOP, including the online political magazine The Bulwark, Republicans for the Rule of Law, and Republican Voters Against Trump.
We'll explore and analyze research that was conducted to understand the shift in voter attitudes under Trump and how potentially persuadable voters were identified. We'll also look at how we designed campaigns to create permission structures for traditional Republicans to vote against Trump in 2020, and how and why we can continue to use these tactics in the 2022 midterm elections.
The seminar will explore issues such as increasing political polarization, the ongoing realignment of political parties, communications tactics and strategies, the changing landscape of political persuasion advertising, and lessons learned from my early work persuading Republicans to support gay marriage. I will be candid about where we succeeded, where we failed, and what comes next for NeverTrump Republicans.
Just like 2020, 2022 is another inflection point in the fate of the GOP and the American experiment. Will we be able to restore our democracy and stop today's Republican Party from damaging it further?
I've spent 20 years working in the conservative movement and Republican politics, starting the minute I graduated from Kenyon College in 2002. The party today is unrecognizable from the one that drew my interest in high school. So what happened? It didn't start with Trump. We'll trace the major milestones from 9/11 to the Iraq War to the rise of the Tea Party Movement to the dominance of today's nationalist, populist right. We'll also explore how years of culture wars, polarization, and political realignment have upended our politics and led to an American identity crisis.
Why I became a Republican. Why I stopped being a member of the GOP but remained a Republican. And everything in between.
How the GOP got Trump. How Trump got the GOP.
Where does the GOP go from here?
Swing voters are the Holy Grail of political persuasion. But who, exactly, are these swing voters? In this age of tribalism and hyper-polarization, do swing voters even exist anymore? (Spoiler alert: they do.)
The 2020 election saw the highest levels of turnout in the history of American democracy. As new voters surge into the political process - both for and against Trump's presidency and demagogic populism - what does that mean for political engagement going forward? Will these voters stay in the system in 2022? In 2024? Or will they disengage now that Trump is gone?
Trump has scrambled the traditional political order of who considers themselves a Republican or Democrat, or at least who is willing to vote for either party. Many McCain/Romney voters voted for Joe Biden in 2020, and many Obama voters became Trump voters. What is driving this shift and what does it mean for how the political parties orient themselves in this new period of political realignment?
Everyone knows what a standard political ad looks like. The candidates go positive. Outside groups go negative. But what actually persuades a voter? Which is more important - the message or the messenger?
I'll walk through the Republican Voters Against Trump campaign and explain why we decided to use organic, selfie-style video testimonials over traditional attack ads. I'll demonstrate how qualitative and quantitative research informed our strategy, how we chose our target audiences, and how we ensured they were seeing our campaign. I'll also discuss how my experience working on the fight for marriage equality informed our 2020 strategy.
Additionally, I'll break down the importance of "earned media" over "paid media" and why using the voices of real people beats paid actors every day of the week, and twice on Sundays.

Between both houses of Congress, there are slated to be about 470 federal elections in 2022. There are also gubernatorial races, state legislature races, mayoral races, and countless other statewide, municipal, and local elections. Now multiply that by 50. The result is hundreds - if not thousands - of elections coming up in the next nine months.
Any one election alone won't completely dismantle democracy, but with enough "Stop the Steal" candidates in office, America's democratic institutions are truly at risk.
I'll talk about the Republican Accountability Project's plan for the midterm cycle, how we plan to use lessons learned from 2020 and 2021, and findings from years of focus groups to tackle the daunting task of defending principled Republicans, defeating anti-democracy Republicans, and helping pro-democracy Democrats.
We'll explore best- and worst-case scenarios for 2022, what that means for the future of the GOP, and how our democracy can weather this pivotal moment.
Special Guests: Gunner Ramer, Political Director of the Republican Accountability Project