Pritzker Fellows
Sally Yates
Sally Yates
Former Deputy U.S. Attorney General & Acting U.S. Attorney General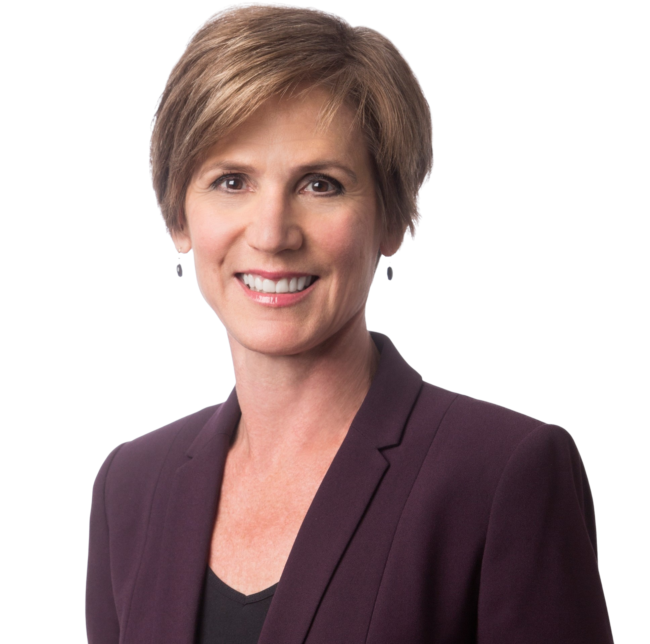 Spring 2021 Pritzker Fellow
Sally Q. Yates served as Deputy Attorney General in the Obama administration from January 8, 2015 until January 20, 2017, and then as Acting Attorney General from January 20, 2017 through January 30, 2017. As Deputy Attorney General, Ms. Yates oversaw the Department's 113,000 employees and the day-to-day operations of the Department of Justice. Her responsibilities included oversight of all facets of the Department's work, including its four law enforcement agencies (the Federal Bureau of Investigation, Drug Enforcement Administration, Bureau of Alcohol, Tobacco Firearms and Explosives, and United States Marshals Service), its prosecutorial, litigating, and national security components, the Federal Bureau of Prisons, and the Department's various grant-making and legal services offices. During her tenure as Deputy Attorney General, Ms. Yates focused on advancing criminal justice reform, ensuring individual accountability for corporate wrongdoers, strengthening public safety, and reforming our prison system for the 21st century.
A native of Atlanta, Ms. Yates served in the Department of Justice for over 27 years. She began her public service career in September 1989 as an Assistant U. S. Attorney in the U. S. Attorney 's office in Atlanta. Over the next two decades, she prosecuted a wide variety of cases, specializing in public corruption cases, and served as the lead prosecutor of Olympic bomber Eric Rudolph. Ms. Yates held several supervisory positions within the office until 2010, when she was appointed by President Obama to lead that office as its first female United States Attorney. Prior to joining the Department of Justice, Ms. Yates practiced commercial litigation with King and Spalding law firm in Atlanta. She recently served as a Distinguished Lecturer from Government at Georgetown University Law Center and has returned to King and Spalding to practice in their Special Matters and Government Investigations division.
Seminars
"'And Justice for All': The Rule of Law & Our Endeavor to Fulfill Our Nation's Promise of Equal Justice"
From the time we were children, we have pledged allegiance to a country dedicated to "liberty and justice for all." Indeed, our justice system is the cornerstone of our democracy. John Adams famously declared, "We are a government of laws, not of men." It is our country's foundational promise, enshrined in our Constitution and inscribed above the doors of the Supreme Court, that all are promised "Equal Justice Under the Law." Yet from the days of our founding, we have not fully lived up to that promise. Racial and socioeconomic inequities continue to plague our criminal justice system, and some have attempted to pervert the system by using it as a cudgel to go after political enemies or a shield to protect friends. Yet, every day, thousands of men and women across our country, both inside and outside of government, dedicate themselves to working to achieve that "more perfect" justice system.
This seminar will examine some of the current challenges to our system of justice and how lawyers and non-lawyers alike can make a difference.
In this seminar, we will discuss why we all have a stake in a justice system that reflects our values, why I joined the Department of Justice (and then decided to stay for 27 years), and your perspectives of what's fair and what isn't about criminal justice in America today.
Join Sally Yates for a discussion with Chuck Rosenberg, currently host of the popular podcast, "The Oath," as we discuss what draws people to public service, what makes a good leader, and what it means to "represent the people of the United States." We'll talk about insights from Rosenberg's interviews of inspiring public servants and from his own illustrious career as a United States Attorney, Acting Director of the Drug Enforcement Administration, and Chief of Staff to the FBI Director.
Special Guest: Chuck Rosenberg, Host of "The Oath" Podcast, former U.S. Attorney, former Acting Director of the Drug Enforcement Administration & former Chief of Staff to the FBI Director
Preet Bharara joins Sally to discuss his experience as the top prosecutor in the Southern District of New York, the centrality of the rule of law to our democracy, and what the Derek Chauvin trial means going forward.
Special Guest: Preet Bharara, former United States Attorney for the Southern District of New York (2009-2017) & Author of "Doing Justice"
Following the Chauvin verdict, many are demanding meaningful police reform now. What's needed, what's possible, and what works? Nancy La Vigne, Executive Director of the Council on Criminal Justice Task Force on Policing, joins Sally to discuss policies most likely to reduce violent encounters between officers and the public and improve the fairness and effectiveness of American law enforcement.  
Special Guest: Nancy La Vigne, Executive Director of the Council on Criminal Justice Task Force on Policing
The United States has the highest incarceration rate in the world. We comprise only 5% of the world's population yet have over 20% of its prisoners. Our over-reliance on incarceration has come at great costs - both fiscal and to the health of our families and communities. Reform movements are taking hold across the political spectrum. Sally will discuss her perspective on criminal justice reform and will be joined by Andrew Bruck, New Jersey First Assistant Attorney General, who will talk about some of New Jersey's ground-breaking reform measures.  
Special Guest: Andrew Bruck, New Jersey First Assistant Attorney General
Donald Verrilli served as Solicitor General during the Obama Administration and joins Sally to discuss some of the many cases he has argued before the Supreme Court, including the marriage equality and Affordable Care Act cases.  
Special Guest: Donald Verrilli, Partner with Munger, Tolles & Olson & former Solicitor General of the United States from June 2011-June 2016
The terrorist threat in the United States has evolved significantly since 9/11, with the threat from domestic terrorists, and especially violent white supremacists, now exceeding the threat from international terrorism. Sally welcomes Mary McCord, former head of the National Security Division at the Department of Justice and the current Executive Director of the Institute for Constitutional Advocacy and Protection, as they discuss how we got here and what to do about it.
Special Guest: Mary McCord, Executive Director of the Institute for Constitutional Advocacy and Protection & former Head of the National Security Division at the Department of Justice
Special Guest: Eric Holder, former Attorney General of the United States (2009-2015)