Pritzker Fellows
Karine Jean-Pierre
Karine Jean-Pierre
NBC & MSNBC Political Analyst & Chief Public Affairs Officer for MoveOn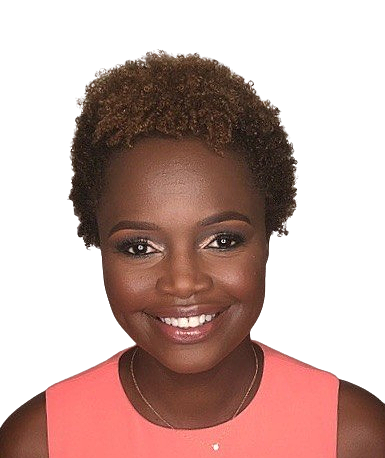 Karine Jean-Pierre's professional experience has ranged widely from presidential campaigns to grassroots activism, to local politics, to working in the White House. Jean-Pierre is the Chief Public Affairs Officer for MoveOn and an NBC and MSNBC Political Analyst. Jean-Pierre previously served as the Deputy Campaign Manager for Martin O'Malley for President.
In 2014 she was the Campaign Manager for ACLU's Reproductive Freedom Initiate (RFI). Previously, she managed Tish James' successful campaign for New York City Public Advocate.
In 2011, Jean-Pierre served as Deputy Battleground States Director for President Obama's 2012 re-election campaign, managing the President's political engagement in key states while leading the delegate selection and ballot access process.
Before joining the re-election campaign, Jean-Pierre served as the Regional Political Director for the White House Office of Political Affairs. Prior to joining the Obama Administration, she worked on the Obama for America campaign in 2008 as the Southeast Regional Political Director; she served the John Edwards for President Campaign in the same capacity.
Jean-Pierre's interests demonstrate her concern for integrity and the human condition. In graduate school, she explored her Haitian roots through documentary film. Later, she worked at the Center for Community and Corporate Ethics and pushed major companies like Wal-Mart to change their business practices. While working in New York, Jean-Pierre served as Press Secretary to Congressmen Anthony Weiner, Deputy Chief of Staff and Director of Legislative and Budget Affairs for two City Council Members respectively in the New York City Council.
Jean-Pierre joined the Columbia University faculty in 2014 where she teaches a course at the School of International and Public Affairs (SIPA). She received her MPA from Columbia University's SIPA in 2003.
Seminars
"Moving Forward: Activism in the Trump Era"
"The stakes have never been higher" - a refrain that is constantly echoed in politics. Yet, for many Americans, it has never felt more true than with the rise of Trump. With even larger stakes, progressive activists have developed bolder, more innovative campaigns. 
Emboldened by a unified federal government and conservative media, President Donald Trump wielded and leveraged power that was unprecedented. Our founders envisioned a President like Trump and put guard rails in place. What they never envisioned was members of an independent branch of government serving as enablers.
With every action by Trump and Congressional Republicans, the progressive movement organized and resisted, creating hope where there once was none, achieving victories in the face of defeat, and producing historic victories in the 2018 midterms. What lessons have we learned from these successes? How do we capitalize on the campaigns of today to move forward as a country? Where do we go from here? 
In this seminar, participants will learn about the campaign, advocacy, and media strategy used to achieve political and policy victories in the Trump era. Led by Karine Jean-Pierre, Chief Public Affairs Officer for MoveOn and an NBC and MSNBC Political Analyst, participants will gain insights on what makes a campaign successful on any level, ranging from White House advocacy to grassroots activism, from local politics to presidential campaigns.
On the campaign trail, people will hang on every word you say, so make every word count. From crafting resonating messages to remaining authentic, on message, and relevant all at the same time, speechwriting is both an art and a science that can make or break a campaign. What makes for a great stump speech? What elements are important to consider when crafting powerful speeches? What makes a public speech or appearance compelling?
This seminar will cover the elements of a successful speech, how to navigate the various challenges of campaign speechwriting and public speaking, writing the perfect sound bite, and how to develop a public persona. Guests will include recent candidates who through their own compelling public speeches were able to secure electoral victory and peers from other national advocacy organizations.
Special Guest: Stacey Abrams, former Minority Leader of the Georgia House of Representatives & Author of "Lead from the Outside: How to Build Your Future and Make Real Change"
We live in a complicated, busy, and saturated media environment. Oftentimes, the media covers issues, and even tweets, that seem superfluous while ignoring things we find important. How can a campaigner ensure that your issue or candidate breaks through and ends up on the agenda? How can we push our narratives and issues to the forefront? How can messaging and media strategy uplift campaign strategy?
As a Chief Public Affairs Officer for MoveOn and a political analyst, Jean-Pierre is a master at navigating complex media landscapes and influencing narratives. Jean-Pierre will be joined by a special guest, to share insights on all of this from the perspectives of both the media and campaigners. Issues covered will include developing a communications strategy and messaging, maximizing paid media, best practices on earning media, and what it takes to be a political analyst.
Special Guest: Joy Reid, Political Analyst for MSNBC, Host of "AM Joy" & Author of "Fracture: Barack Obama, the Clintons and the Racial Divide
From leading campaigns to pressure Walmart to change labor practices to presidential campaigning, Karine Jean-Pierre has led campaigns on a local and national scale. How do you develop winning strategies for your issues or your candidates? What tactics create the biggest impact? How are issue, advocacy-based campaigns different from electoral campaigns?
In this session, Jean-Pierre will share her personal story and professional experiences on the campaign trail. Topics covered include campaign strategy, how best to serve the public interest in issue advocacy, internal polling, and professional growth in the world of politics.
MoveOn is a national organization that has grown in the past 20 years to have a massive political impact and to amplify the voices of a nationwide network of activists and concerned citizens. Yet, the organization continues to evolve and innovate, especially in the Trump era. How do you build an inspiring, effective political organization? How do you empower and organize local activists into an effective national network?
From protecting reproductive rights with the ACLU to holding the Trump Administration accountable with MoveOn, Jean-Pierre is experienced in leading grassroots campaigns in a variety of contexts and will discuss the tactics used to successfully organize a (the) resistance.
Special Guests: Anna Galland & Ilya Sheyman, Co-Executive Directors of MoveOn