Pritzker Fellows
Justin Amash
Justin Amash
U.S. Representative from Michigan's 3rd Congressional District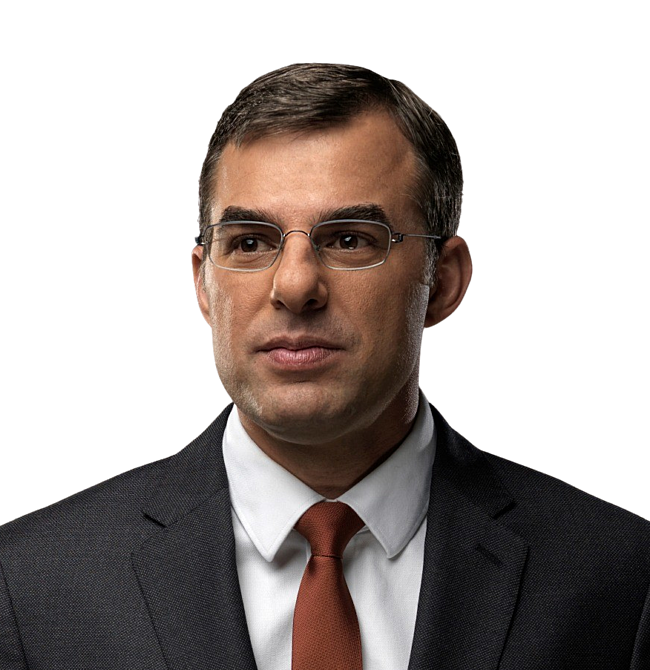 Justin Amash is a former member of Congress who represented Michigan's Third District in the U.S. House of Representatives from January 2011 to January 2021. First elected as a Republican, Rep. Amash left the Republican Party in July 2019 and later joined the Libertarian Party, becoming the highest-ranking Libertarian Party officeholder in the country. During his time in office, Rep. Amash came to be particularly concerned by the harms of power centralization in Congress and increasing partisanship, and since leaving office he has been exploring ways to combat these trends.

In Congress, Rep. Amash earned a reputation as one of its most transparent and accessible members thanks to his frequent vote explanations on social media and many town halls. His legislative efforts focused heavily on congressional openness and protecting individual rights.

Prior to his congressional service, Rep. Amash served one term as a state legislator in the Michigan House of Representatives. Before that, he worked as a business lawyer for a Michigan law firm and consulted for his family's business. Rep. Amash has an AB in Economics from the University of Michigan and a JD from the University of Michigan Law School.
Seminars
"Why I Am a Libertarian"
If various polls and surveys conducted over the last decade are to be believed, the number of Americans holding "libertarian" views falls somewhere between "not very many" and "wow, that's a lot." The results vary widely because the methods for identifying libertarians vary widely - because, after all, what does it mean to be a libertarian anyway?

Libertarians are often described as socially liberal and fiscally conservative. This can be a useful heuristic, but it lacks nuance, and it won't tell you how libertarians approach real issues in today's world. Life involves applying abstract principles to concrete problems; to appreciate libertarian policy choices - or recognize libertarianism in oneself or others - one must first understand libertarian principles.

In these seminars, we'll discuss the outlines of libertarianism and what libertarianism looks like in modern politics. By the end of the series, I hope you'll recognize something I already know: You're more libertarian than you think.
I haven't always been in the Libertarian Party, but I've long considered myself a libertarian. During my ten years in the U.S. House of Representatives, I made a point to use the word "libertarian" to describe my political philosophy, because I wanted the people I represent to connect libertarianism to my approach.
This seminar will introduce libertarianism and set the stage for the rest of the series by looking at my experiences as a legislator and exploring what libertarianism means to me and the people I served in Congress.
Libertarianism is a political philosophy, but it's born from more fundamental beliefs about human nature and social order. In this seminar, we'll discuss some of these underpinnings and how they translate to libertarian ideas about governance.
Special Guest: Matt Kibbe, President of Free the People; Host of "Kibbe on Liberty" (BlazeTV); Author of "Don't Hurt People and Don't Take Their Stuff: A Libertarian Manifesto"; former President of FreedomWorks
What is governance for and what would a minimal government look like? What is the best way of securing liberty for individuals and communities? Are there any established principles that we can turn to to inform us about these questions?
This discussion will revolve around the concept of (multiscale) localism and how it relates to complex systems science.
Special Guest: Joe Norman, Applied Complexity Scientist; Founder & Chief Scientist at Applied Complexity Science, LLC; Instructor at Real World Risk Institute; Affiliate of New England Complex Systems Institute; PhD, Complex Systems and Brain Sciences
With so many students interested in working in government someday, I thought it would be helpful to dedicate a session to exploring what that's actually like. In this seminar, my former legislative director will join us to discuss applying for the job, being a libertarian policy staffer, working with me and our team, and what it's like working on the Hill generally.
Special Guest: Carolyn Iodice, former Legislative Director for Rep. Justin Amash (2015–2021); JD, NYU School of Law
What is the nature of authority? Has the Constitution failed? What is the difference between anarchism and libertarianism? We'll discuss these questions and more as we explore anarchism with one of its most renowned proponents.

Special Guest: Michael Malice, Host of the "YOUR WELCOME" Podcast; Author of "Dear Reader," "The New Right," and "The Anarchist Handbook"
What do libertarians and progressives have in common? Probably a lot more than you think. Rep. Alexandria Ocasio-Cortez joins us to talk shared values, Congress, and the political establishment.
Special Guest: U.S. Representative Alexandria Ocasio-Cortez (NY-14)
According to Ronald Reagan, "the very heart and soul of conservatism is libertarianism." Of course, he said that in 1975. Was it true then? With the rise of national conservatism within the Republican Party, is there still a place for libertarianism within the broader conservative movement? We'll discuss these questions and more as we explore how libertarians can best effect political change now and in the future.

Special Guest: Jane Coaston, Host & Editor of "The Argument" Podcast at The New York Times; former Senior Politics Reporter at Vox Focusing on Conservatism and the Republican Party; former Pritzker Fellow at The University of Chicago's Institute of Politics
So, where do we libertarians go from here? Should we be hopeful for a more libertarian future? Where can those interested in learning more about libertarianism do so? Nick Gillespie, one of the most well-known and influential libertarians of modern times, will join us for our last seminar to help us tie it all together and think about what's next.
Special Guest: Nick Gillespie, Editor-at-Large at Reason