Pritzker Fellows
Jessica Yellin
Jessica Yellin
Former CNN Chief White House Correspondent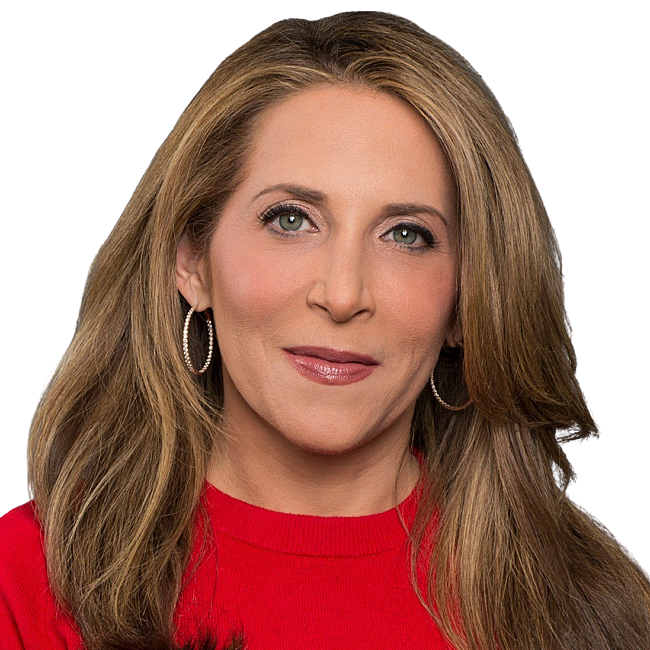 Fall 2015 Pritzker Fellow
Jessica Yellin is the former Chief White House correspondent for CNN and an award-winning political journalist reporting for CNN, ABC News, and MSNBC. She began her broadcasting career at Central Florida News 13. She has interviewed Presidents Barack Obama, Bill Clinton, and George HW Bush; First Ladies Michelle Obama and Laura Bush; and Secretary of State Hillary Clinton. Yellin began covering President Obama during his Iowa campaign in 2008. In 2012 she produced and anchored a documentary on President Obama's first term, which was featured prominently throughout the campaign cycle. Yellin has covered Capitol Hill, domestic politics, state and national elections, the culture wars and issues facing women in the workplace.
Her work has been published in The New York Times, Details, Entertainment Weekly and The Los Angeles Times. She is now writing a book and serving as a fellow at the USC Annenberg Center on Communication Leadership and Policy and as a Distinguished Visiting Fellow at the Pacific Council on International Policy.

Seminars
"What's Wrong With the News? Ratings, Click Bait & the Search for Meaning in Political Coverage"
Ask a news producer why Donald Trump gets so much coverage, and she won't hesitate to tell you, "He rates." Dig deeper and you'll find many newsrooms are focused less on a story's editorial merit and more on finding stories that will draw eyeballs and generate buzz. This is particularly true of television political coverage during a presidential year. Political reporters are urged to find stories "that travel," guests who will "bring the heat" and scripts that "have stakes," "feel relatable" and "pop." What's lost? An explanation of the issues, an appreciation for nuance and complexity, and a shared public dialogue about what matters to voters. Why does the media focus on micro-scandals, outrage, and rhetoric in our political coverage? How has this bias for "high stakes," "sexy" news impacted the way politicians communicate? Is the media responsible for making the electorate less informed, or are the people simply getting what they want? We'll discuss these issues and the best way forward.
In the 1960s, television news was a public service, not a profit center. William Paley famously told his team at CBS, "I have Jack Benny to make money." Fast forward to the modern day and news executives are expected to generate strong profits and increase viewership. We'll take a look at what changed from the success of 60 Minutes, to the pressures of reporting profits at shareholder meetings, to the rise of cable news and the internet and the popularity of reality TV. What is expected of the executives who run our TV newsrooms? Is it possible to develop high-quality news in a for-profit environment? How can we alter the short-term pressures on shareholder-owned newsrooms?
Special Guest: Jon Klein, Founder and CEO of TappTV and former President of CNN/US and Executive Vice President at CBS News overseeing 60 Minutes
What does a typical day as a White House or campaign television reporter look like? What kinds of stories are you expected to pitch, and how are you expected to frame them? In what ways have technology and shortened news cycles impacted the behavior of reporters, politicians and sources? I'll share my experience in the news business – from White House intern to local television news reporter, national news correspondent, and cable news White House and campaign correspondent. Along the way, I learned to write stories that K.I.S.S. (come to the seminar for an explanation).
In this seminar, we'll discuss women and the political media from three angles: how the media covers women in politics, what it's like to be a woman in the media, and the impact on women news consumers.
Special Guests: Candy Crowley, Fellow at Harvard University's Institute of Politics and former Host of State of the Union, Chief Political Correspondent for CNN; Christy Parsons, White House Correspondent with The Los Angeles Times; and Julie Mason, Host of The Press Pool on Sirius XM and former White House Correspondent for Politico & Houston Chronicle
Chances are you know about Edward Snowden. He's the NSA contractor who exposed classified government surveillance programs and triggered a fierce debate about mass surveillance and government secrecy. When the story broke, TV news brought us round-the-clock coverage of Snowden's flight to Russia and an endless debate about his status: hero or traitor. But how much do you know about the programs Snowden exposed? The fallout of his revelations? If the answer is not much, don't be too hard on yourself. With some notable exceptions, traditional media did a lackluster job of explaining the details and reporting the fallout of his leaks. What did the media do well? Poorly? We'll talk to Snowden's attorney, Ben Wizner, for a perspective beyond the media firestorm.
Special Guest: Ben Wizner, Attorney for Edward Snowden and Director of the ACLU Speech, Privacy and Technology Project
The Obama White House has aggressively sought new outlets to deliver its message. The President has answered questions on Reddit, Tumblr, YouTube and more. He's visited a prison with VICE and sat for interviews with Kindle Books, Mic.com, and Marc Maron, among others. But the traditional media can't be ignored, and, as with every White House, is a constant source of frustration for the President and his aides. What are the biggest frustrations and challenges? How does news coverage impact policy and White House decision-making? What could be improved in the current landscape? We'll talk to the President's former chief speechwriter about the challenges of crafting messages that will survive the media filter.
Special Guest: Jon Favreau, former Director of Speechwriting under President Obama
The media is taking it on the chin from presidential candidates this election cycle. What's it like to cover a presidential campaign in the age of Twitter and the instant news cycle? How are stories assigned, narratives solidified, and who decides the questions for those debates?
Special Guest: Carey Bodenheimer, Journalist and Winner of National Emmy & Peabody Awards
There's still hope for the days ahead. Online and mobile news organizations are bringing fresh voices and perspectives to news coverage. The success of VICE and the popularity of documentaries on streaming TV demonstrates there is an audience for in-depth reported information. The move into news by Snapchat and Facebook could provide more cause for hope. What is the future? What does the news audience want? Where will journalism be five or ten years from now?
Special Guests: Alyssa Mastromonaco, COO at VICE Media and former Deputy Chief of Staff under President Obama; Gabriella Schwarz, Managing Editor at Flipboard and former White House Producer at CNN; and Jake Horowitz, Founder of Mic
The challenges of quality coverage apply beyond politics. Across the board, legacy broadcast news organizations are pushing fluff, fear, and scandal instead of information. One news executive has dismissed criticism of salacious and error-filled reporting by saying what really matters is that "the viewers are responding." Do audiences deserve what they're getting? What do viewers want? Who is holding the powerful accountable in this environment? What impact will the decline of the fourth estate have on our democracy? Are we truly in a moment of decline or, is this really a transition to a more democratic people-driven form of journalism?