Pritzker Fellows
Heather McGhee
Heather McGhee
Senior Fellow at Demos & NBC News Analyst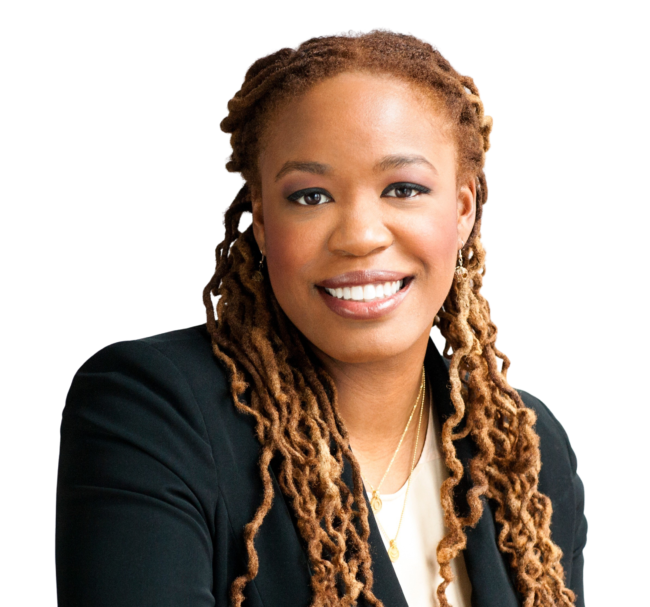 Heather C. McGhee joined Demos in 2002 and served as its president from 2014 through June, 2018. A recognized thought leader on the national stage, McGhee is now a Distinguished Senior Fellow, advancing the vision of an equal say and an equal chance through her writing, public speaking and media appearances. McGhee is a NBC News Analyst and regular guest on shows such as NBC's Meet the Press and HBO's Real Time with Bill Maher.
McGhee is writing a major book to be published in 2019 about the personal, economic and societal costs of racism to everyone in America, including white people. She serves as a contributor to NBC News and frequently appears on shows such Meet the Press. Her opinions, writing and research have appeared in numerous outlets, including The New York Times, The Nation, and The Hill. She has received New York University's McSilver Award for Leaders in the Fight Against Poverty, and Citizen Action of New York's Progressive Leadership Award.
Over the years, McGhee's work has had a profound influence on public policies and issues. Her efforts at Demos as both staff member and president have led to achievements that include: landmark consumer protections to rein in credit card abuses and save consumers over $50 billion in fees; critical contributions to policies that rewrote the rules for how financial institutions operate; billions in wage increases at large companies and for government contractors; four million low-income voters registered at DMVs and public agencies; and pro-democracy reforms, such as public campaign financing, same-day registration, and automatic voter registration, won in a dozen states and Washington, D.C.
McGhee currently serves on the boards of Color of Change, MoveOn.org and Rockefeller Brothers Fund. She holds a B.A. in American Studies from Yale University and a J.D. from the University of California at Berkeley School of Law.
Seminars
"Progressives on the Front Lines: Moving Big Ideas into the Mainstream & into Law"
Legislative access and success come relatively easily for wealthy donors and corporate lobbyists, but who lobbies for the public? How do everyday people's biggest unsolved problems get on the political radar? In this seminar, we will get to know some of the people who have proposed bold solutions to inequality and pushed them from the fringes to the center of the political debate. We'll explore the complicated and increasingly narrow path from idea to law, engaging with questions of power and influence, media and money, research and advocacy.
In this class, I'll share what I've learned over nearly 20 years of advocating for public policy solutions seen as necessary to solve big problems, even when they were not considered politically possible. At Demos, we study, develop and advance solutions to inequality in our democracy and our economy. One of the dynamics we've learned is that particularly on economic issues, the political center in Washington is far different from the political center among working- and middle-class voters. What does it take to get those two "centers" to align? This class will cover core theories of change and concepts in policy advocacy. We'll do a dive into the formative policy battle of my career: the fight to reform the financial industry before and after the financial crash of 2008. This fight featured the most powerful industry in Washington, blurred partisan lines and revealed the tension between saving the system and reforming it. Recalling efforts I led with Americans for Financial Reform to insert structural ideas like the Volcker Rule and Glass-Steagall into Dodd-Frank, I'll share what I learned about the role of grassroots advocates, experts, media and legislative staff in shaping policy in real-time.
This class will continue the close look at the financial industry's power and how to overcome it in order to preserve the financial security of millions. In 2003, Demos was laughed out of Congress when we showed our research report on the dangerous and under-regulated rise of credit card debt and how it was affecting working families, but by 2009 we were in the Rose Garden when the CARD Act was signed. The class has since saved consumers over $50 billion in fees alone. In this class, we'll talk about how the bill was drafted and how we got it passed, and specifically the role of research in reframing elite discourse and helping inform ideas for smart and effective industry regulation.
Special Guest: Tamara Draut, Senior Advisor at SuperMajority & former Vice President of Policy and Research at Demos
How did criminal sentencing reform make its way through the "legislative graveyard" of Mitch McConnell's Senate and onto President Trump's desk? What did Van Jones, the Koch Brothers and Kim Kardashian have to do with it? Which compromises were cut and what did advocates along the spectrum think about the tradeoffs? We'll learn about the unusual bi-partisan campaign to win The First Step Act of 2018 from one of the key strategists at #Cut50, the organization founded by Van Jones with the goal of dramatically reducing the prison population in America. 
Special Guest: Louis Reed, National Organizer for #Cut50
Health care remains the #1 policy priority for most Americans, and we'll talk about how advocates have moved big ideas like universal coverage, the public option, single-payer and Medicare for All into the mainstream - while fighting attacks on the progress made in 2009.
Special Guest: Anna Galland, former Executive Director of MoveOn
What makes a big idea popular, and do elected officials' policy preferences square with that of their constituents? In this seminar, we'll delve into public opinion data on this political cycle's most prominent big ideas such as Medicare for All, canceling student debt and the Green New Deal, and begin to understand what puts an idea on the radar, how it becomes centered in the debate, how social media buzz moves the Overton Window. We'll debate who moves an idea first – politicians or the people?
Special Guest: Sean McElwee, Co-Founder of Data for Progress & former Policy Analyst at Demos
What corporations say and do shapes our lives as much as any public policy. We'll discuss what tools people – and particularly communities of color – have to change corporate policy and practice without the help of government regulations and how to measure the impact of non-public policy change. Our special guest will be Rashad Robinson, the leader of Color of Change, the nation's largest online racial justice organization. He'll share what he learned in campaigns to make corporations accountable to the LGBTQ rights movement in the 2000s, and unpack signature Color of Change victories such as getting 100 corporations to leave the American Legislative Exchange Campaign (ALEC) and getting banks and online payment systems to stop processing funds for white supremacist websites.
Special Guest: Rashad Robinson, Executive Director at Color of Change
Now that we've learned about a number of successful advocacy campaigns, this class will be a hands-on workshop offering students the opportunity to generate their own ideas and present them to one of the best campaigners in the business, Ai-jen Poo. We'll workshop support for family caregiving, an idea that fits the toughest "big idea" formula – a universal unmet need with little political urgency. Care is "the work that makes all other work possible" and yet the United States has an embarrassingly weak infrastructure for supporting people who need to care for themselves or their loved ones. Students will get time in class to develop campaign ideas and will workshop them with Ai-jen Poo, founder of the National Domestic Workers Association.
Special Guest: Ai-jen Poo, Co-Founder & Executive Director of the National Domestic Workers Alliance
In the spring of 2019, an unlikely coalition of labor unions, renters, environmentalists, civil rights organizations and students won one of the nation's most sweeping laws to address climate change, the Community and Climate Protection Act. The hardest part was designing – and fighting to keep – equity provisions that ensured that this climate change bill would also tackle inequality and environmental injustice. We'll discuss why the bill succeeded and what lessons we can learn for coalition-building for a national Green New Deal, particularly between labor and environmentalists.
Special Guest: Adrien Salazar, Senior Campaign Strategist for Climate Equity at Demos