Pritzker Fellows
Ertharin Cousin
Ertharin Cousin
Former Executive Director of the United Nations World Food Programme, Nominated by President Obama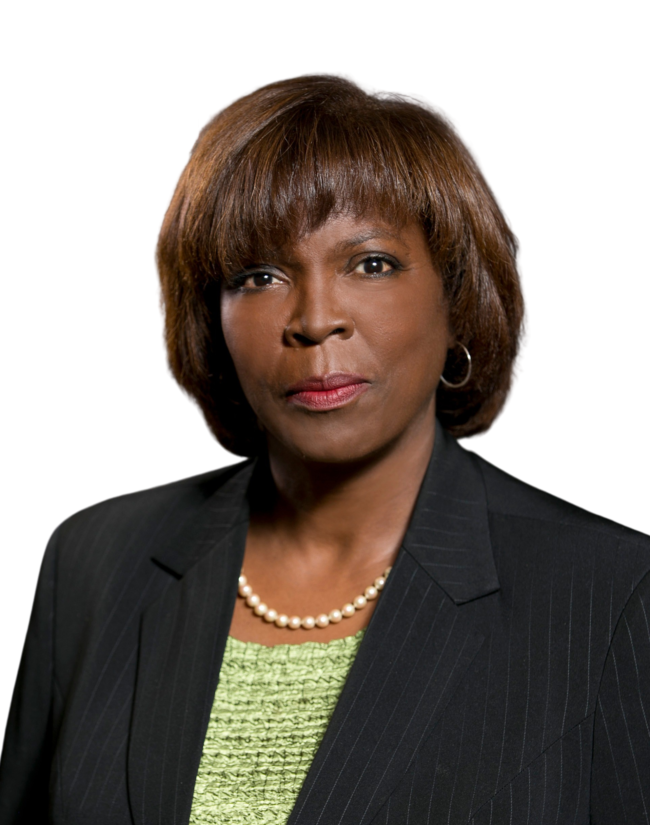 Ertharin Cousin a global agriculture, food security and nutrition solutions thought leader and sustainability advocate. She currently serves as a Richard von Weizsäcker Fellow of the Robert Bosch Academy; a Distinguished Fellow at the Chicago Council on Global Affairs; a Visiting Scholar at the Stanford University, Center on Food Security and Environment; and as the CEO and Founder of Food Systems for the Future, a nutrition impact investment fund. From 2012 until 2017, Cousin led the United Nations World Food Programme (WFP). In 2009, Cousin was nominated and confirmed as the U.S. Ambassador to the UN Agencies for Food and Agriculture in Rome. Prior to her global hunger work, Cousin helped lead the U.S. domestic fight to end hunger including service as the Executive Vice President and Chief Operating Officer of America's Second Harvest - now Feeding America.
Seminars
"The Politics of Hunger"
In 2021, how can anyone really remain hungry or malnourished? COVID-19 illuminated the disparities in both the domestic and international food systems, forcing us to rethink the often-asked question, "Don't we grow more than enough food to feed everyone on the planet?" In fact, if America maintains the world's most productive agriculture system, why were food bank lines long and grocery shelves empty? The data suggests a majority of people in our society "care" about the hungry and malnourished. Yet today, American children go to bed hungry. The medical and academic communities now acknowledge a correlation between the increase in noncommunicable disease, diet and poverty. A bipartisan Congressional hunger caucus has long championed the issue of ending hunger. New temporary emergency programs and increases in food assistance represent encouraging actions, but these time-limited programs fail to address the structural challenges of ending hunger in America. Internationally in 2020, COVID-19 exacerbated the protracted hunger problems, increasing the numbers of malnourished children and hungry families to a ten-year high of some 850 million. Former UN World Food Programme Executive Directors, Catherine Bertini, a lifelong Republican, and Ertharin Cousin, a Democratic policy advocate, will lead each seminar through lectures, readings, group debates and discussions. The class will explore the thorny issues and questions which shape the politics of domestic and international hunger.
Let's talk about politics and hunger. What is the relationship between the thorny political issues of the day and who experiences hunger? Does it matter how we define hunger? Why are people hungry? Understanding 'food insecurity' in all its dimensions, including defining and understanding hidden hunger. Understanding why 850 million hungry represents progress, and how we achieved this relative progress? Beyond the mortal and religious issues, why should anyone care about those who are hungry? If we believe in the "progressive realization of the right to food," how will we achieve this goal? Is 'food justice' an achievable goal, or simply another progressive rallying cry? If so, why are solutions so elusive? This first seminar will provide a broad overview of the many facets of the issues impacting global food insecurity and malnutrition.
Some would argue that the industrial system of agriculture production combined with increasing global climate variability now results in food system failure. While our global food system is productive, some suggest that it is not environmentally sustainable. Is it possible to create an agriculture food system that adequately supports both planetary health and human health? We will discuss the competing political views regarding these issues, particularly exploring the mountain of global challenges of agriculture production, land management, water use and scarcity challenges and the impact of the accelerating climate crisis.
This seminar will examine the critical role of women and girls in ending hunger. Women and girls in the developing world are involved in all aspects of food provision - as farmers, cooks, providers of water and firewood, marketers and mothers. Yet, due to politics of place and gender, they are often not in leadership roles, even in their own households. How does the empowerment of women change families' economic well-being and end hunger? Given the challenges faced by women and girls, how is this achieved?
Special Guests: Vicki Escarra, Senior Advisor at Boston Consulting Group and former CEO of Feeding America and Opportunity International; and Vicki Wilde, Senior Program Officer, Agricultural Development & Women's Economic Empowerment at the Bill & Melinda Gates Foundation
The data supports a clear correlation between conflict and hunger. Six out of ten people facing acute food insecurity or hunger reside in countries plagued by conflict or insecurity. Three-quarters of stunted children - some 122 out of 155 million children - live in countries affected by conflict and violence. What is the relationship between hunger and conflict? Does hunger act as a conflict multiplier? With all the humanitarian and development resources invested in supporting affected civilian populations during conflict, why and how does humanitarian access affect food insecurity and malnutrition, particularly in situations involving non-state actors? Do the humanitarian principles still matter? If so, how do we enforce them?
Special Guest: Tjada D'Oyen McKenna, CEO of Mercy Corps
Photos of starving babies move governments to act, but photos of poor women working in the fields and sending their children to school draw no attention or funding. However, efforts spent to help build peace and prosperity have huge, positive long-term impacts. Why are these efforts not the top priority? What has been done to change the narrative? What can be done? What are the politics that stall reform?
Special Guests: Jim Barnhart, Assistant to the Administrator for the Bureau for Resilience & Food Security; and Lola Castro, Regional Director for the World Food Programme in Latin America & the Caribbean
We will discuss the landscape of non-state actors working to address the gaps in the U.S. Food System. For example, one actor, Feeding America represents the Network of 200 foodbanks, supported by 57,000 agencies and pantries with over 20 million annual volunteers feed 40 million people at risk of hunger. Yet, one in every four persons in a food line is a child. We will explore the hunger challenges faced by our aging U.S. population. Today, nearly 5.5 million seniors suffer from food insecurity. What does the charitable system provide and to whom? Does geography, community, race and gender affect who receives assistance and why? As a group, we will consider the relationship between the work of nonprofits, government and private sector actors.
Special Guests: Kate Maehr, Executive Director & CEO of the Greater Chicago Food Depository; and Lisa Moon, President & CEO of The Global FoodBanking Network
'Nutrition' too often remains the most ignored step-child of agriculture and health. Both claim nutrition as part of their remit; neither pay attention to it. Yet ensuring adequate nutrition for all solves so many problems, like the obesity epidemic, the huge increases in people with non-communicable diseases, under-nutrition, child stunting and wasting. COVID-19 raised the stakes on the importance of improving health outcomes through adequate, healthy and diverse diets. Nutrition also has many other stakeholders, including private sector companies and non-profit agencies. How do we move beyond the multi-stakeholder politics to develop the necessary partnerships and requisite policy change?
Special Guest: Shawn Baker, USAID Chief Nutritionist
We'll hear a debrief of Ertharin's trip to COP26 and discuss how you can combine your passions and skillsets to work on systems changes to prevent hunger.