Pritzker Fellows
Anna Galland
Anna Galland
Former Executive Director of MoveOn
Anna will draw on her experience as a political and civic organization leader in seminars focused on threats to democracy in the U.S. and explore how the progressive movement – and others in civil society – can combat its erosion.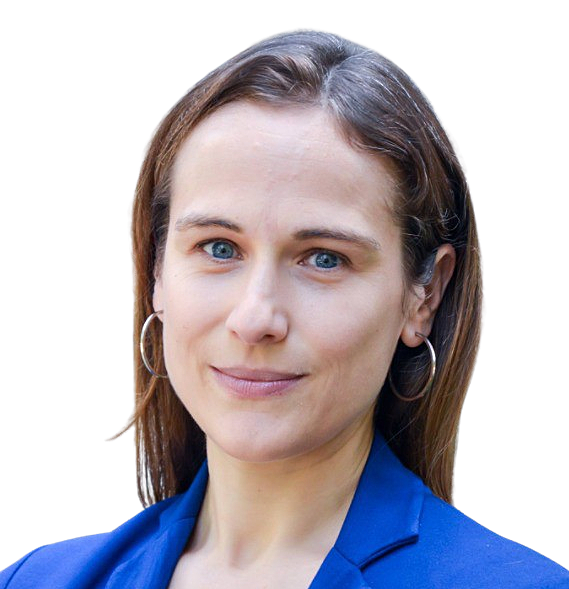 Anna is a nationally-recognized progressive organizer, nonprofit leader, and campaign strategist with two decades of experience advancing democracy and economic and social justice in the United States. She serves as Senior Democracy Fellow with Propel, a New York-based investment and philanthropic venture, and regularly serves as a strategic advisor to political and civic organizations.

She is the national board chair of MoveOn Civic Action, following seven years as Executive Director (2012-2019). She led a top-to-bottom overhaul of MoveOn in a time of tremendous growth, increased visibility, and impact -- mobilizing millions of people in campaigns to extend & defend access to health care, protect democracy against accelerating assaults, and fight for the dignity and safety of immigrants.

In close partnership with MoveOn PAC's Executive Director, she quadrupled MoveOn's budget and base of sustaining donors, tripled the size of the staff team, and dramatically grew its membership and reach. She also raised millions of dollars for other organizations and for humanitarian relief.

Her work in national media has included numerous appearances on MSNBC, CNN, and CSPAN, and interviews with print publications including the New York Times, Washington Post, Glamour Magazine, Huffington Post, and a range of other outlets. Her writing has appeared in outlets including The Nation and the Boston Globe.

She serves as a member of the boards of Public Citizen and the National Domestic Workers Alliance, and as an advisor to a number of other activist efforts and civic start-ups, including the Leadership Center for Social Change at the City University of New York and the Congressional Progressive Caucus Center. She lives with her husband and three children in the Chicago area.
Seminars
"Renewing Our Democracy: Movement-Building Perspectives on the Path Forward"

Our democracy is ailing. The mob that stormed the U.S. Capitol in January 2021 was just the latest vivid display of a multi-front crisis. Severe and racialized polarization divides our two major political coalitions; gridlock, corruption, and dysfunction have increased the public's appetite for more authoritarian leadership; disinformation is rampant. Americans can't agree on basic truths like whether Joe Biden was legitimately elected in 2020 - even as attacks on nonpartisan election administration and the right to vote are underway. Americans today have historically low levels of trust in one another, in our government, and in our democratic system. Addressing these challenges, renewing our democracy, and building a healthier political culture will require a range of efforts. Social movements and grassroots activists have an essential role to play - in concert with high-integrity politicians and public officials, journalists, technologists, business and philanthropic leaders, and many others. Over 8 weeks, we'll dig into the challenge of renewing democracy with a movement-building lens, drawing inspiration from conversations with a range of leaders from different sectors and perspectives.

*This seminar will be held via Zoom
Which norms, precedents, and practices are working, and which are weak or threatened, both federally and at the state and local level? Where do we see some consensus between our major political coalitions and other actors – and what is contested? How fragile or resilient did the Trump years reveal our democracy to be? Where do we see opportunities for social movements to shore up our democracy in coming years?
Special Guest: Ian Bassin, Associate White House Counsel from 2009-2011 and Founder of the Bipartisan Group Protect Democracy

*This seminar will be held via Zoom
In the year since the attempted insurrection at the Capitol in Washington, a sprawling coalition has pushed for federal legislation that could help to renew our democracy and defend our freedom to vote (like the For the People Act, the Freedom to Vote Act, and the John Lewis Voting Rights Advancement Act) - even as hundreds of bills have been introduced at the state and local level that would restrict our freedom to vote. This fight heated up in the run-up to Martin Luther King Day. We'll unpack what's at stake, discuss what organizing, coalition, and messaging strategies have been most effective in democracy reform advocacy over the last year, and discuss what might lie ahead. In conversation with Rob Weissman, President of Public Citizen, a nonprofit consumer advocacy organization that champions the public interest in the halls of power.
Special Guest: Robert Weissman, President of Public Citizen

Midwestern states like Wisconsin and Michigan have been ground zero in recent years for fierce partisan battles over voting access and election administration, as well as hot-button economic and social policy fights. With Garlin Gilchrist, Lieutenant Governor of Michigan (and first Black Lieutenant Governor for the state of Michigan), we'll assess: how does the national political environment reverberate among local activists and officials? How does intense and racialized polarization, turbocharged at the national level, play out in communities in Michigan? What movement-building and organizing work in Michigan may hold lessons for national organizers and observers?
Special Guest: Garlin Gilchrist, Lieutenant Governor of Michigan

How does the national media ecosystem covering our political process help – or harm, or fuel in counterproductive ways – asymmetric polarization, racialized divisions, and the rise of political violence? What dynamics do responsible journalists see holding back our efforts to find points of productive unity? To what extent do the business models, subcultures, incentives, and norms of our national media help or hurt? And how does traditional political media understand, relate to, and sometimes fuel social movements for democracy? In conversation with Chris Hayes, host of MSNBC's All In with Chris Hayes, host of Why Is This Happening podcast, and author (and life-long Cubs fan).

Special Guest: Chris Hayes, Host of MSNBC's All In with Chris Hayes and the Why Is This Happening Podcast

Most of the online spaces where Americans spend time are designed to maximize our attention and monetize our personal data – not to foster community connection, mutual understanding, and democratic values. Maybe that's why our experience of digital public space is so marred by disinformation, deepening polarization, and abuse. What would it take to better design and steward digital public spaces? Could we make changes to enhance our collective commitment to self-governance and mutual care, or are we condemned to online lives of rage, loathing, and fuel for authoritarianism? (Spoiler: I think we can make things better.) In conversation with Eli Pariser, author of The Filter Bubble: What the Internet Is Hiding from You and a democracy and technology activist.
Special Guest: Eli Pariser, Democracy and Technology Activist; Author of The Filter Bubble: What the Internet Is Hiding From You

Joan Blades, co-founder of MoveOn.org, has had a long-time preoccupation with rebuilding civic trust with individuals on the political right, at some scale - using a grassroots format she calls Living Room Conversations. In conversation with John Gable, a former Republican operative and the founder and CEO of AllSides.com, we'll discuss approaches to transpartisan movement-building, and more broadly map the left-right and anti-polarization landscape. What are the dynamics, strengths, and limitations of various approaches to build civic relationship outside of our usual political tribes?
Special Guests (via Zoom): Joan Blades, Co-Founder of MoveOn.org; and John Gable, former Republican Operative and Founder and CEO of AllSides.com

One of the examples of a campaign that has engaged people from diverse ideological backgrounds and worldviews, worked to overcome toxic and entrenched divisions, and is now on the verge of a historic breakthrough, is the life's work of Ai-jen Poo and the National Domestic Workers Alliance - which seeks to envision and manifest a fundamental re-valuing of care work. How did this movement change the conversation in this country around care work and advance to the point of securing hundreds of millions of dollars for care services - moving "care work" to the position of being understood broadly as essential infrastructure? What lessons might this work hold for democracy renewal?

Special Guest: Ai-jen Poo, Co-Founder & Executive Director of the National Domestic Workers Alliance
What should a "pro-democracy" movement look like today? What would such a movement be FOR? What are the demands that such a movement should make? Should such a movement ever submerge or sidestep debates over racial justice, gender equity, economic opportunity, migration policy, and state violence? How do we make sense of asymmetric polarization against democracy? In conversation with Deepak Bhargava, Distinguished Lecturer in Urban Studies at the City University of New York and a policy expert on issues of poverty, economic justice, racial equity, and immigration.

Special Guest: Deepak Bhargava, Distinguished Lecturer in Urban Studies at the City University of New York; former President and Executive Director of Community Change and Community Change Action

*This seminar will take place on Monday, March 7 from 3-4:15pm
Pro-democracy advocates in the United States can be somewhat myopic - but, we increasingly understand that civil society movements, leaders, and advocates in other countries have much to teach us about how to dislodge or prevent authoritarianism here. In conversation with Patrick Gaspard, formerly President of the global foundation Open Society Foundations, and previously Director of the Office of Political Affairs from 2009–2011.
Special Guest: Patrick Gaspard, President & CEO of the Center for American Progress; former President of the Open Society Foundations (2017-2020), United States Ambassador to South Africa (2013-2016), Executive Director of the Democratic National Committee (2011-2013), and Director of the White House Office of Political Affairs (2009-2011)