Pritzker Fellows
Adrian Perkins
Adrian Perkins
Former Democratic Mayor of Shreveport, LA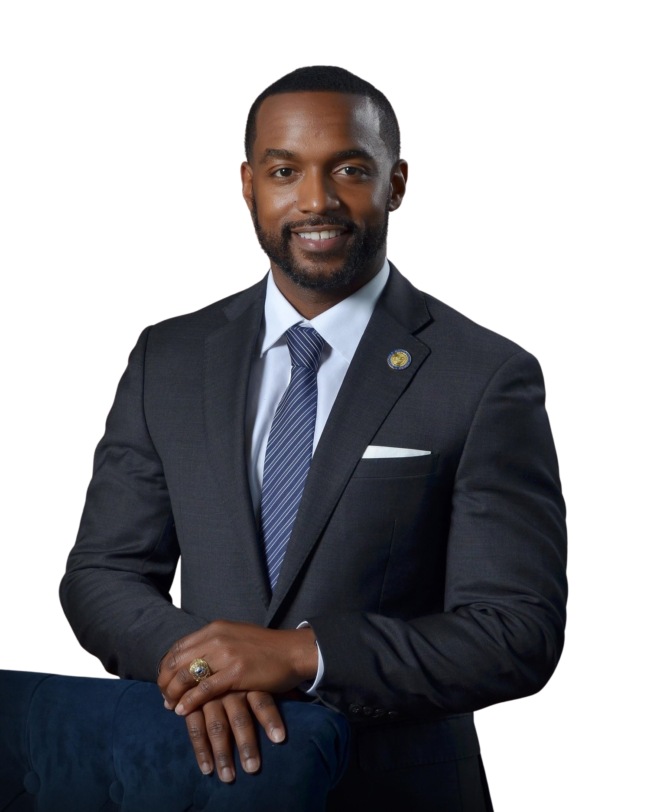 Mayor Perkins is a native of Shreveport, Louisiana. In the wake of 9/11, he accepted a nomination and eventually graduated from West Point as the first African-American graduate elected Class President in the school's history. In 2008 he entered the United States Army eventually serving three tours of duty in Iraq and Afghanistan, achieving the rank of Captain and Company Commander, and receiving the Bronze Star for his service. While transitioning from the military, the Tillman Foundation accepted him into their Tillman Scholar Program which enabled him to attend Harvard Law School, where he was elected Student Body President.
On December 31, 2018 Mayor Perkins was elected the 56th Mayor of the City of Shreveport. Unfortunately, after just a year, his mayoral term was disrupted by the global pandemic. As the youngest Mayor of any major American city in 2021 he led with distinction. Mayor Perkins' was highlighted by the Washington Post as leading the first city in the country to identify COVIDs disproportional impact on urban and minority communities. His innovative leadership undoubtedly saved lives beyond the city limits of Shreveport.
Still, in office Mayor Perkins worked hard to improve the quality of life for all citizens focusing on economic development, public safety and infrastructure improvements, as well as technology initiatives. Notably, Mayor Perkins hired the Shreveport's first Chief Technology Officer, stood up its Real Time Crime Center, was a founding member of Mayors for Guaranteed Income, and transformed a 1.2 million dollars deficit into a 55-million-dollar surplus in three years.
In addition to serving as Mayor, Mayor Perkins also serves on several boards including the Service 2 School; Crime-Vision, Southern Rail Commission; Federal Communications Commission's Intergovernmental Advisory Committee; United States Conference of Mayors Board of Trustees; and Northwest Louisiana's Metropolitan Planning Organization.
Adrian enjoys working out, reading, writing, traveling, and spending time with friends and family.
Seminars
"Reinventing the American City through Technology"
The arc of my seminar starts with an introduction to who I am. We will discuss what it was like to run Shreveport, Louisiana as a Millennial in my early 30s and being the youngest Mayor of a major US City during Covid. The seminars will cover the benefits and challenges of running a mid-sized city. After analyzing the problems of mid-sized cities, we'll transition to an exploration of potential tech solutions like Smart Grids. These smart grids can deliver city services more efficiently in cost and operations. However, the more cities automate, the more vulnerable they become to cyberattacks. In expounding on the cybersecurity threats, I will circle back to the general vulnerabilities of midsized and rural municipalities and their impact on the country as a whole.
After Spring Break we'll jump back into technology and discuss its Achilles heels, the digital divide, and the disparate workforce development that it exacerbates every day. We'll transition from discussing these modern shortcomings and inequities to once again looking for tech solutions. This time we'll meet at the intersection of new tech-driven techniques and old-fashioned policy creation. Finally, we'll discuss the difference in changing policy vs. changing culture and the role that local media plays in anchoring our more conservative cultural norms.
Running any city comes with unique challenges. Adding youth to the equation adds even more distinct hurdles. However, the disadvantages of youth, inexperience, and cultural countercurrents can be overcome with energy and fresh ideas. We will explore and discuss the pros and cons to leading a mid-sized city such as Shreveport as a Millennial mayor.

Contrary to popular belief, tax dollars plus government application does not equal sufficient city services, especially in mid-sized cities. The loss of population and industry, urban sprawl, and growing healthcare and pension costs leave mid-sized cities far short of the resources needed to serve all their citizens. Every city has to prioritize its resources, but it is an acute problem in mid-sized cities. Mid-sized cities have less money, staff, and public-private partnership opportunities. Yet, they must meet the same demands for public safety, infrastructure and quality of life. We will discuss how the tension between resource constraints and expectations often lead to smaller cities being more innovative than larger cities.

"Smart City" is more of a buzzword than a concrete definition. A smart city initiative can be thrown on something as small as a city adopting one device to a city-wide sensory grid buildout. Considering our previous discussion on the need for innovation in mid-sized cities, smart grids are a tool that smaller cities can use to deliver more efficient services. The delivery of water and sewer, electricity, traffic control, trash collection, and public safety can be digitized and automated to degrees that cut costs and are more effective. Cutting costs in as many areas as possible frees up the budget for smaller cities to pay their bills and potentially be even more innovative.

The expansion of automation into smaller municipalities is increasing our national cybersecurity vulnerability. There is a nationwide shortage of cybersecurity experts to protect our public and private infrastructure. Private industry typically has the good fortune of larger resources to recruit the available talent. The public sector isn't so lucky and oftentimes has minimal coverage or goes without altogether. As was pointed out, necessity is pushing smaller municipalities through digital transformations, but what happens when they get there? How do they protect their digital infrastructure without the resources and personnel that private industry has? We'll discuss how these cracks in our system can be of national security concern.

Equity has too often been ignored by many cities in the delivery of city services and we're seeing the same disparate delivery in the newest utility, the internet. Reliable internet is as necessary to American life today as lights and water, yet large portions of American cities and entire rural communities lack access. If this disparity isn't remedied soon, it will exacerbate societal disparities already harming our communities. We will discuss the local impact of this disparity, the federal initiatives to solve it in the Infrastructure Investment and Jobs Act, and local communities that are already bridging this digital divide.
Special Guest: Keith Hanson, CEO of Crime-Vision and former CTO of the City of Shreveport, LA

There has been an exodus of people and industry from middle America over the last few decades, driven by outsourcing and automation. Cities in the Midwest and South aren't just losing people, they are often losing talent to growing coastal cities with more sophisticated and diverse economies. This creates a chicken and egg problem for smaller cities. They can't lure the industry needed for economic development because they first require a workforce, which they can't attract without available jobs. We'll discuss how some cities are solving their workforce problems and the political impacts of these diverging communities.

We will discuss pre-, mid- and post-pandemic public safety challenges in cities. Exploring public safety conditions from politics and race to the proliferation of gun ownership and relaxed gun laws. How do we move forward from this moment leveraging long-term investment, communication, and technology to create safer American cities?

Special Guest: Benjamin Riggs, Director of Communications for the Louisiana Democratic Party and former Communications Director for the City of Shreveport

Local government communications are transforming as fast as local media. There have been plenty of discussions about the gutting of local newspapers or the consolidation of local news outlets, but there has not been as much discussion as to how local governments are adapting to this changing landscape. The void left by local media is being filled with national news and social media, resulting in the polarization of one of the least partisan arenas; local government. Regardless, the surviving media outlets are the ones with the most resources, so it is not difficult to imagine that minority voices or interests aren't being pushed or prioritized. This new environment is allowing the more traditional and often conservative norms to dominate our local political culture. If all politics is local, what impact is this having beyond our local borders?
Special Guest: Marquel Sennet, Communications Director for the Caddo Parish School Board and former Communications Director for the City of Shreveport